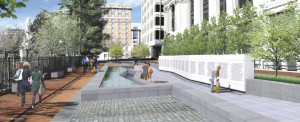 The Virginia Public Safety Foundation will simultaneously announce that it has reached its $2 million goal for construction of the Commonwealth Public Safety Memorial and ceremonially break ground on the memorial site during a ceremony on Friday, January 3, 2014 at 2 p.m.
Governor Robert F. McDonnell will join his predecessor, U.S. Senator Tim Kaine, and public safety leaders from across Virginia to acknowledge the end of the construction funding campaign and the commencement of the memorial's construction phase. The ceremony will include a blessing of the memorial site and ceremonial groundbreaking.
Supported by the Virginia Sheriffs' Association, the groundbreaking is the culmination of a long campaign to raise the funding necessary to construct Virginia's monument to fallen heroes.
To download an invitation, click HERE.