Charles City Sheriff Jones holds inaugural 'Shop with a Sheriff'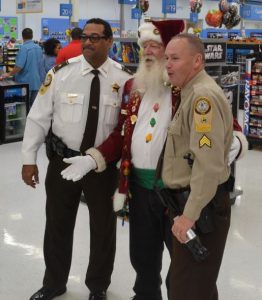 On December 18, 2016, the Charles City County Sheriff's Office started its first annual 'Shop with a Sheriff' program that provides a fun filled day for 12 children in Charles City County, while providing a positive relationship with law enforcement. This unique December shopping experience assists children and deters them from choosing a life of crime or violence.
On the day of the event uniformed deputies and staff from volunteered their time to be with the children for breakfast with Mr. Christmas at the sheriff's office. Following breakfast the children participated in a law enforcement procession and then headed to the shopping center with their 'Partner of the Day.' The children were able to get some necessities as well as toys to make their Christmas special. Sheriff Alan Jones would like to thank everyone who participated and donated to make this event a success.