Prince William County Sheriff's Office holds annual Unclaimed Bodies Ceremony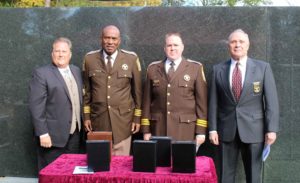 The Prince William County Sheriff's Office, in partnership with Woodbine Cemetery, held its second annual Unclaimed Bodies Ceremony at Woodbine Cemetery in Manassas on October 26. This event provided a permanent resting place for five deceased citizens of Prince William County, and the cities of Manassas and Manassas Park who went unclaimed by their family members.
Reverend Gene Wells presided over the event, and Chaplain Don Belanus led the attendees in prayer. During the prayer, Chaplain Belanus spoke about acknowledging all the good efforts of those deceased residents. Reverend Wells discussed the importance of honoring those deceased residents and not throwing anyone away just because they did not have the finances to cover a burial.
Prince William County Sheriff Glen Hill thanked the individuals involved in making this event possible. In addition, he mentioned his gratitude towards being able to provide an honorable burial for those citizens, which would have not been possible without the partnerships the sheriff's office has built with community organizations.
In order to provide a noble burial for those deceased residents, the Prince William County Sheriff's Office contracts with several crematoriums for cremation. In partnership with Woodbine Cemetery, each unclaimed resident is provided with a burial plot at no cost. Without the generosity of Woodbine Cemetery, those unclaimed residents would not have a burial plot.
Upon investigating the case of deceased resident, Earl R. Miller, the cremated remains of his mother, Willie M. Miller, were also discovered. A mother and her son were able to finally rest in peace together.
The cremated remains buried at the ceremony include residents who died from natural causes: Edwin L. Connor Jr. from Woodbridge, VA; Edwin F. Gray from Manassas, VA; Robert E. Gross from Dale City, VA; Earl R. Miller and Willie M. Miller from Manassas, VA.
Eastern Memorials created a custom made memorial last year in recognition of those unclaimed deceased residents, which is located at Woodbine Cemetery. A website, www.pwcup.com, was also created which lists the names of all those unclaimed residents. Sheriff Hill's goal is to continue to provide this service to the unclaimed citizens because he feels that no one should be left behind.