Sheriff Robert Mosier is one of Fauquier County's Employees of the Month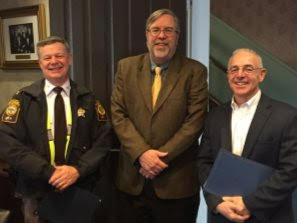 Congratulations to Jack Ledden and Sheriff Robert Mosier for being Fauquier County's Employee of the Month for January.  During the extreme cold weather in December, Jack was concerned about the plight of the homeless and collected specialized sleeping bags and other useful items. Sheriff Mosier assisted with searching various communities on foot and in single digit temperatures for homeless individuals so as to provide clothing and shelter options. While there is no specific program dedicated to addressing the needs of the homeless in our community, they ensured that those less fortunate individuals are not exempt from your mission of helping, serving and protecting the most vulnerable.
We are grateful for Jack Ledden and Sheriff Robert Mosier's dedication and commitment to serving the community. We are proud to present them with the Employee of the Month Award for January.