SHERIFF'S OFFICE ATTENDS TRUNK OR TREAT EVENT
On October 26, 2018, STEP, Inc in Rocky Mount held its annual Fall Festival/Trunk or Treat event. Even moving the event indoors because of rain, many local organizations were on hand to greet the families and children.  Special thanks to Ms. Lisa Landes with WoodmenLife for helping with candy and on site, all the great staff of STEP, Inc, and the families that participated.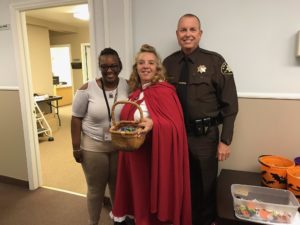 FCSO ATTENDS UNIVERSITY WOMEN'S MEETING
On Saturday, October 20, 2018, Franklin County Sheriff's Lt. Erik Mollin was the guest speaker at The Smith Mountain American Association of University Women's meeting held at Waterfront Country Club. Mollin spoke on how to be diligent and watchful in public, protect yourself in case of public violent situations, and overall personal safety.  Lt. Mollin stated, "We had a great talk and the group was so attentive. The Q & A session afterwards was very informative for both sides. Thanks to this wonderful group for inviting the Office of the Sheriff to attend."
SHERIFF'S OFFICE PROMOTES NEW CAMPAIGN BY DMV
Virginia Department of Motor Vehicles rolled out a new don't drink and drive campaign. Named, "Act Like It", the ads depicts adults acting like children, and they parallel it by asking all residents, "Old Enough To Drink? Act Like It". Impaired driver deaths are in the thousands across the United States each year. Sheriff Bill Overton says, "Don't drive impaired. Please return home safe to your families."
SHERIFF OVERTON BEGINS 2018 BEARDS FOR CHARITY
Recently, Sheriff Bill Overton announced the 2018 Beards For Charity campaign within the Franklin County Sheriff's Office. Male deputies are allowed to grow and maintain a neat beard for a donation of $100. Female deputies can donate $50 and not wear a neck tie while in uniform (with a few exceptions.)
"For the past several years, our deputies donate to this charity and we are able to give back to our community", Sheriff Bill Overton said. He continued, "They enjoy this time of year and we have a lot of fun with it."
Sheriff Overton made a donation, a while back, to the FC American Heart Association with a portion of the funds raised by these deputies.
FRANKLIN COUNTY SHERIFF'S OFFICE GRADUATES CITIZEN'S ACADEMY CLASS
Wednesday, October 30th, FCSO graduated its 12th Citizen Academy. Sheriff Bill Overton commented on how proud he was of this class and their hard work. Contact Sgt. Darryl King at[email protected] if you wish to join our 2019 class.