Virginia Sheriffs Present the 2018 VALOR and Deputy Sheriff of the Year Awards
Chesterfield – During the 2018 Virginia Sheriffs' Association Annual Meeting and Awards Recognition, the members of the Virginia Sheriffs' Association took a moment to honor their colleagues for their selfless and heroic efforts.
2018 Valor Awards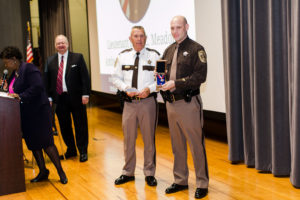 Amherst County Sheriff's Office – Lieutenant Jason E. Meador, Amherst County Sheriff's Office, was recognized for his devotion to saving a fellow deputy sheriff.  While responding to a traffic stop with multiple subjects in the vehicles, Lt. Meador without hesitation and consideration of his own well-being took down a suspect retrieving a small pistol from his pocket and aiming directly for Deputy Erin Karajankovich, who was also among the officers responding to the call.  During the ensuing life or death struggle for control of the weapon, Lt. Meador was struck by the first discharge. Nonetheless, he continued his fight for control of the weapon and provided for the safety of the other officers on the scene. Lt. Jason Meador's leadership, selflessness and devotion to duty that night ensured that his fellow law enforcement officers averted serious injury or death.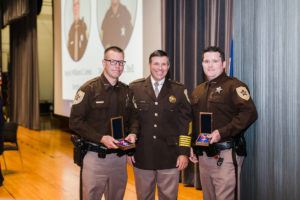 Northampton County Sheriff's Office – Deputies William E. Lewis and Daniel R. Bell, Northampton County Sheriff's Office, were both recognized for their selfless and dedicated response for saving a trapped individual from under a boat.  Having just marked off duty at 6:00 a.m., Deputy Bell joined Deputy Lewis in responding to the call.  They located the individual who was from the waist down trapped under the rear bumper of a six-wheel U-Haul truck, submerged in 2 ½ feet of mud and water.  The tide was quickly rising on Plantation Creek, a saltwater tidal subsidiary of the Chesapeake Bay.  Deputies Bell and Lewis quickly removed their duty gear on the shoreline and entered the mud and 39 degree water to attempt to free the individual as the water was only about a foot from completely submerging the victim, causing him much distress.   While digging through the mud and oysters, Deputies Bell and Lewis managed to assure the victim that he was going to be okay and successfully freed his legs from under the truck.  Never did either deputy show concern their own well-being; along with the Fire and Rescue Personnel, Deputies Bell and Lewis went beyond the call of duty to save this individual.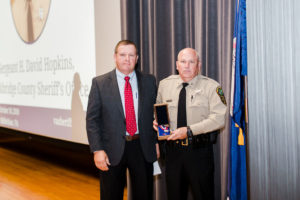 Rockbridge County Sheriff's Office – Sergeant H. David Hopkins, Rockbridge County Sheriff's Office, was recognized for his heightened awareness while off-duty and shopping at Tractor Supply.  He noticed customers' attention focused on the Cornerstone Bank across the parking lot.  Realizing this bank was being robbed, Sergeant Hopkins immediately gathered intelligence and without regard for his personal safety, responded on foot in an attempt to catch the robber.  Sprinting across the parking lot, Sergeant Hopkins notified dispatch that he was in the area, responding on foot, and had dispatch notify the others responding that he was already there in plain clothes.  He then pursued and confronted the armed robber just as back-up arrived.  Despite repeated commands to disarm and surrender, the robber pointed his handgun at Sergeant Hopkins who then fired twice, followed by his back-up.  The robber was struck by all three rounds.  Sergeant Hopkins' situational awareness, preparedness and courage actions ended the bank robber's criminal spree and prevented any citizen or deputy from being injured or losing their life. He displayed outstanding bold and decisive leadership, wise judgement, unlimited courage and utmost devotion to duty.
2018 Deputy Sheriff of the Year
Roanoke County Sheriff's Office – Deputy Sheriff IV Chad Beheler, Roanoke County Sheriff's Office, was recognized for his dedication and servant leadership to the community in his role of lead Community Outreach Deputy. Among his many accomplishments, Deputy Beheler developed a training program with the Roanoke County schools to meet the different needs of students, with content varying by grade-level. In addition, the Roanoke County Schools partnered with the Sheriffs' Office for their twelve-week summer lunch program where deputies were present during lunch hours, an excellent opportunity to interact with children and parents from the community.   In addition to his work with schools, Deputy Beheler developed a safety and security program for places of worship, which he has taught many times.  He also teaches AVOID and RAD classes in conjunction with high schools and community businesses.  Finally, he formed a lasting partnership with the Arnold Burton Technical School where he worked with a welding class to design and build a steel box to be used as a stand-along drug take back box. This has been used to dispose of 626.3 lbs of unwanted and unneeded prescription medications.  Deputy Beheler never shies away from any request and always strives to assist others with their needs.  He has helped lead the way to gain and maintain the trust of the citizens for the Sheriffs' Office.
The Virginia Sheriffs' Association is the professional trade association representing the interests of law enforcement and sheriffs' offices in Virginia. It is the primary voice for Virginia sheriffs in the General Assembly on all matters relating to public safety.