Franklin County Sheriff's Office Updates
SHERIFF'S OFFICE RECEIVES GIFTING OF K9
Brianna Oleson of Hope Animal Rescue donated an eight month old German Shepherd/Malinois hybrid to the Franklin County Sheriff's Office. "Khaleesi" (named by her new handler Tim Burton) will begin training soon with him to become a narcotics detection dog. Khaleesi will replace Deputy Burton's current partner Rex, who is nearing retirement at 11 years of age.

A very special "Thanks" goes to Ms. Oleson who even paid for the transfer of Khaleesi from Des Moines, Iowa to Franklin County.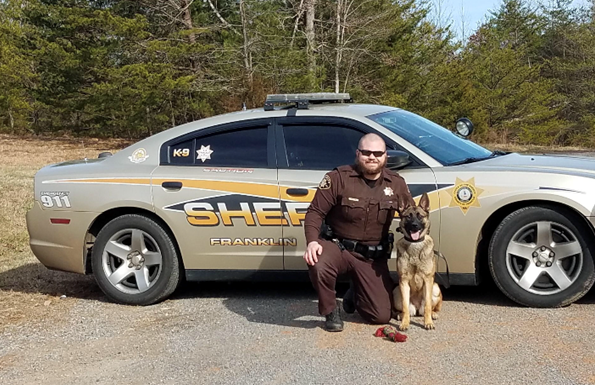 FRANKLIN COUNTY SHERIFF'S OFFICE CELEBRATES DR. SEUSS WEEK
The week of February 25th – March 1st was Read Across America Week celebrating the life and writings of Dr. Seuss.

The Franklin County Sheriff's Office deputies and our E911 Dispatchers were invited to Lee Waid Elementary, STEP, Inc, Boones Mill Elementary and Windy Gap Elementary Schools and read to a class or two. Thanks to all principals, teachers, staff and the great youngsters in attendance for making us feel so welcome. We enjoyed being there and interacting with the students.
SHERIFF'S OFFICE NAMES BLOODHOUND
After a Facebook contest ended recently, the Franklin County Sheriff's Office held a news conference to announce the winning name and introduce the new handler. Receiving nearly 500 votes, the newest K9 to FCSO will be called "Hunter". The deputy named to be the handler is Chad Huston. See WSLS-10's video pertaining to the story by clicking the link provided.