Getting to Know Your Virginia Sheriffs – Northampton County Sheriff David L. Doughty, Jr.
Last month, we began a campaign to introduce our Virginia Sheriff's Association member sheriffs, beginning with Alleghany County Sheriff Kevin Hall. (If you missed last month's sheriff introduction, you may see it HERE.) This month, we are honored to introduce you to Northampton County Sheriff David L. Doughty, Jr.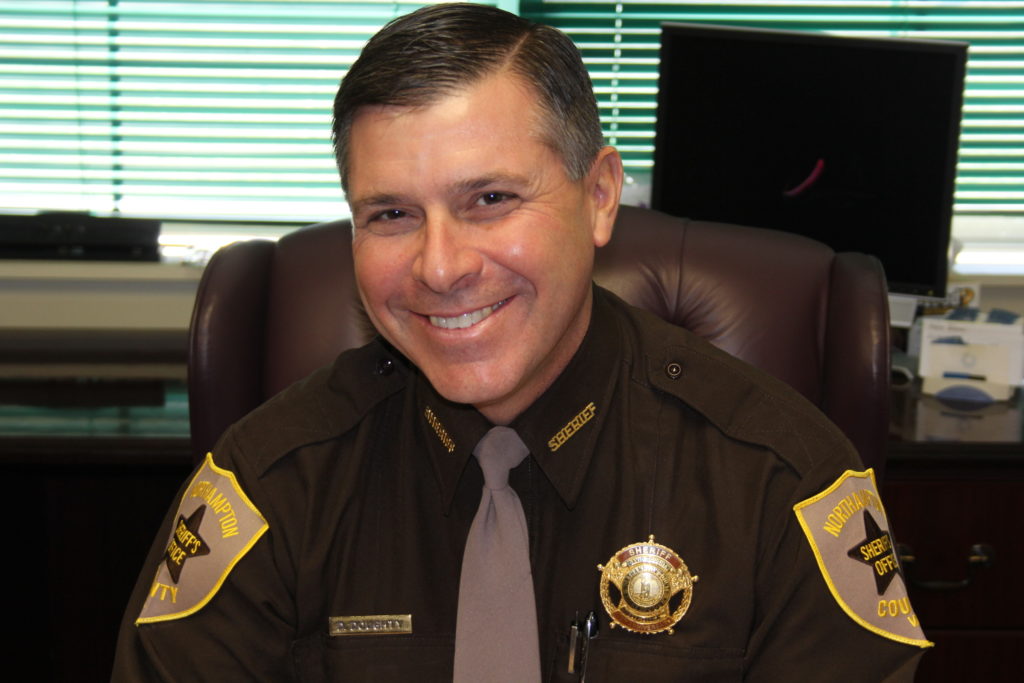 GETTING TO KNOW: Northampton County Sheriff David L. Doughty, Jr.
What are you working on that's new and different?

Starting an Offender Reentry Program at our Correctional Facility

What do you like most about your job?

Having the opportunity to manage a department that serves the community.

Who have been mentors and/or role models in your life/career?

My Parents and Grandparents

What do you enjoy doing in your time away from work?

Vacationing and spending time with my Wife and Family

What are some of your favorite songs on your music playlist?

Oceanfront Property by George Strait; Five More Minutes by Scotty McCreery; Everything's Gonna Be Alright by David Lee Murphy; Huntin', Fishin' and Loving Every Day by Luke Bryan

What is your favorite book?

I have several, it's hard to decide on one

What sports/teams do you root for?

Virginia Tech Hokies and NASCAR Driver Kurt Busch

What drew you to law enforcement?

In high school I spent several years serving as a Volunteer Firefighter and have always had an interest in serving my community

What did you do before elected to the office of sheriff?

I served in several different positions over a period of 17 years with the Sheriff's Office some to include Correctional Officer, Patrol Deputy, Criminal Investigator, and Chief Deputy

If you could have any superpower, what would it be and why?

The ability to Fly, because it's Fast and Peaceful Transportation and the Birds Eye View.

If you could visit any place in the world, where would it be?

Normandy, France – my Grandfather was a WWII Veteran and served on D-Day and the Battle of the Bulge

What are you most proud of?

My entire department and all things that they each sacrifice daily for the citizens of Northampton County

What's your favorite movie genre?
What character do you most admire in others?

Honesty and the sincere willingness to help others who are in need.
Sheriff Doughty's Bio:
A lifelong resident of Northampton County, Sheriff David L. Doughty, Jr., 49, has been employed with the Northampton County Sheriff's Office for 25 years. He began his career with the Sheriff's Office as a Jail Deputy in 1994. In 1996 he was promoted to Patrol Deputy and in 1998 to Criminal Investigator. In 2002 he was promoted to Chief Deputy and served in that position until December 31, 2010. He was appointed Sheriff January 1, 2011 after the retirement of Sheriff Jack Robbins. He has served as the elected Sheriff since November 2011. Prior to working for the Sheriff's Office he worked on the family farm and was employed as a certified water and waste water treatment operator for the Town of Cape Charles.
Sheriff Doughty serves on many local boards and committees. He is a member of the Cheriton Baptist Church, Cheriton Volunteer Fire Company, Cape Charles Lions Club, Cape Charles Rotary Club, Fraternal Order of Police Lodge 62, Sons of the American Legion Post 56, and several other nonprofit organizations. He is a 1989 graduate of Northampton High School and received his Associate Degree in 1991 from Virginia Tech. He is the son of Peggy and Paul Rogers of Cape Charles and the late David L. Doughty, Sr. of Willis Wharf. He and his wife Cathryn reside near Kiptopeke and have been married for 24 years. She has been employed as a teacher and coach for the Northampton County Public Schools for 29 years.