This month we are honored to introduce you to Chesterfield County Sheriff Karl S. Leonard, as we continue our campaign to introduce you to Virginia's Sheriffs. These men and women diligently protect and serve the Commonwealth, and we are pleased to have the opportunity to receive a glimpse into their lives.

Follow the links to catch up on the profiles of our outstanding Virginia Sheriffs that we highlighted in May and June.
Get to Know Your Virginia Sheriff – Chesterfield County Sheriff Karl S. Leonard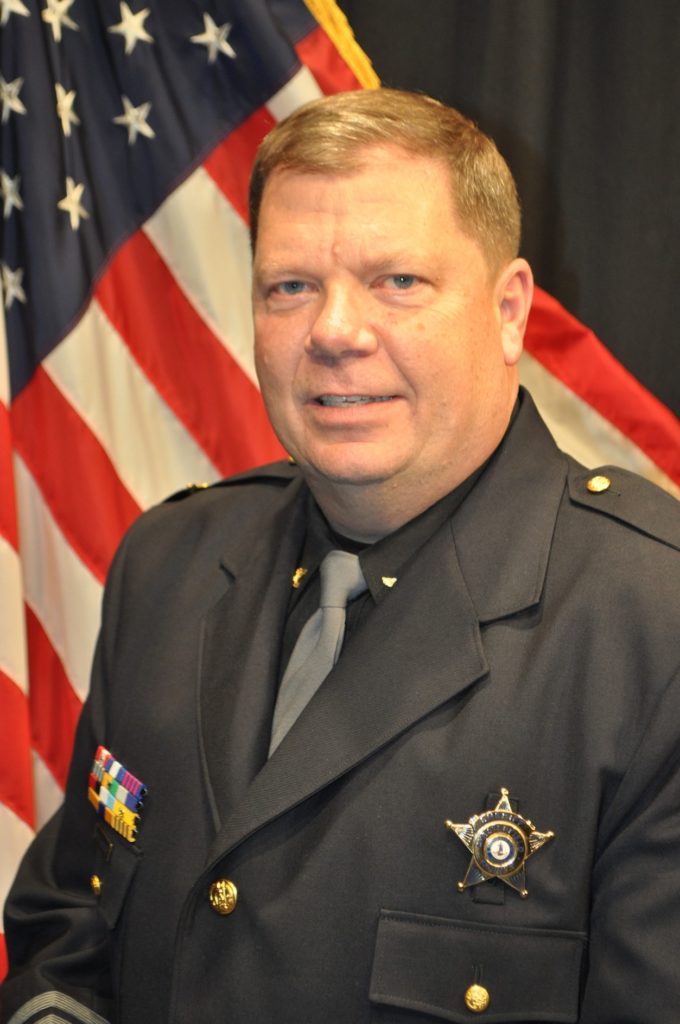 1.) What are you working on that's new and different?
Our newly launched Jail to Jobs (J2J) employment initiative to get inmates gainfully employed upon release has already seen some very early successes. As part of our overall re-entry efforts, having a job when you get out greatly increases your opportunity to succeed and stop the constant revolving door of recidivism.
2.) What do you like most about your job?
Working with all the great men and women who make up our organization, sworn and civilian alike, all working together for a common mission. They make me look good every day.
3.) Who have been mentors and/or role models in your life/career?
Having retired from the military and Chesterfield Police Department both, I have had the opportunity to work with many great leaders. However, I really haven't used them as mentors or role models as much as I have used the very poor leaders I have worked with over my careers as role models as odd as that sounds. I have always patterned my leadership based on what I did NOT want to turn into by using my past experience with poor leaders to shape my positive leadership skills.
4.) What do you enjoy doing in your time away from work?
I hope to find out when I retire. I do enjoy traveling and spending time in the mountains.
5.) What are some of your favorite songs on your music playlist?
Very mixed genre from 70s to 80s to 90s….. rock, beach, inspirational, jazz, bluegrass, Latino…. Coldplay's "Paradise" in specific is one I use to get myself motivated when I need it.
6.) What is your favorite book?
I will not read any fictional books. I do favor any leadership biography book, especially Lincoln and Colin Powell.
7.) What sports/teams do you root for?
As I was a NY native growing up in NY City, I went to Yankee games with my dad in the 60s and watched Roger Maris and Mickey Mantle play so I remain a NY Yankees fan as well as a Buffalo Bills fan.
8.) What drew you to law enforcement?
Although my extended family has always been in public service and the military, ironically they were all mainly fire fighters. My first draw to police was seeing them walking a beat when I was young and being impressed by the demeanor, stature, and professionalism they exuded. Later as I was growing up I did have one uncle who was a Buffalo Police Officers and I remember listening to all the stories he would tell when our families got together and I knew I wanted to be a in law enforcement to help others but also to wear that uniform proudly so others could be inspired by the way I carried myself in it.
9.) What did you do before elected to the office of sheriff?
I retired from the Chesterfield Police Department as a Major and in 2010 went back on active duty with the Coast Guard and worked at the Pentagon for the next 3 years, working with returning warriors from the war from all services, helping them transition back into "normal" life. In 2014 an opportunity opened up for me to come back to Chesterfield and run for Sheriff, which I did, and I have not looked back once.
10.) If you could have any superpower, what would it be and why?
Not an easy question. Most superpowers would end up adversely affecting your ethical standards such as invisibility, mind reading, x-ray vision, etc. We should never allow anything to infringe on our integrity. I suppose if I could have one it would be the power to fly like Superman as there is so much beauty in the County I would love to see from the air.
11.) If you could visit any place in the world, where would it be?
The military has taken me all over the world, all over Europe, Cuba, Egypt, and several deployments to the Middle East. But the most beautiful place I have ever been was Alaska, when I was deployed there for the Valdez oil spill in 1989. I have been back several times but would like to drive from Virginia to Alaska and back one day to really see the entire Country.
12.) What are you most proud of?
It would be easy to say the three different careers I have been in, as I am very proud of that, but without a doubt it is my five daughters who have done very well both professionally but more so because they all live a life with the same values and ethics that I have.
13.) What's your favorite movie genre?
Really depends on my mood but generally action movies.
14.) What character do you most admire in others?
Simple, integrity.
Sheriff Karl S. Leonard's Bio –
Sheriff Karl S. Leonard has been sheriff of Chesterfield County since 2014. He has held a long career in public service and law enforcement, including 30 years in the U.S. Coast Guard. Prior to serving as Sheriff of Chesterfield County, he achieved the rank of Major with the Chesterfield County Police Department. He holds a degree in Criminal Justice from Buffalo State College and a Masters degree in Criminal Justice from VCU. He is a proud husband of Karen, a proud father of FIVE daughters, and a proud grandfather.