As we near the end of the summer, we are thankful for all the Sheriffs that we have gotten to know over the past couple of months. If you missed our previous posts, see the bottom of this page for a list of all the sheriffs we have highlighted since beginning our "Getting to Know Your Virginia Sheriffs" campaign.
For the month of August, we are pleased to introduce you to Loudoun County Sheriff Mike Chapman. Sheriff Chapman has held a long career in law enforcement, as well as following in the footsteps of his detective father.
Get to Know Your Virginia Sheriff – Loudoun County Sheriff Mike Chapman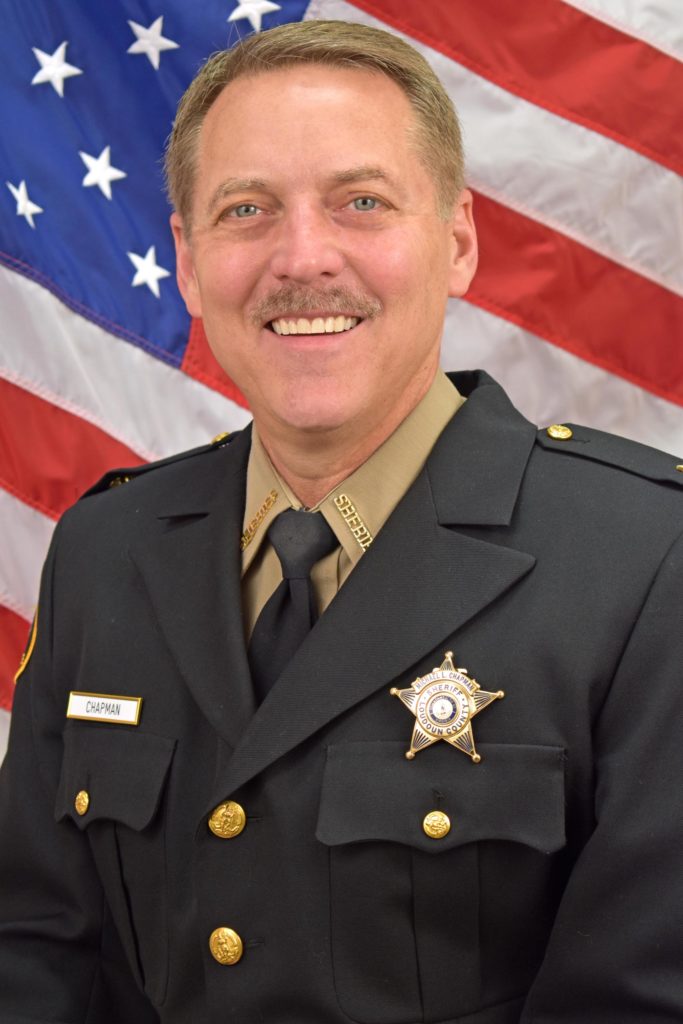 What are you working on that's new and different?
We are working to place School Resource Officers (SROs') in all of our 53 elementary schools. Loudoun County was recognized last year by the National School Resource Officers' Association as one of nine jurisdictions nationwide to have a "Model" SRO program. Currently, we have 24 middle and high schools covered and are looking to, over a period of over 4 years, to place an SRO in every elementary school. Last year, we established a floater investigative liaison SRO positon to follow up on any threats or suspicious activities and to connect any dots of concern between schools. We are very proactive when it comes to protecting our children and are looking for ways to further enhance their safety.
What do you like most about your job?
I've been in law enforcement for over 40 years, having served as a police officer in Howard County, MD; a DEA Special Agent from coast to coast and in three foreign assignments (Pakistan, Korea and Thailand); as a private sector law enforcement subject matter expert; and as a Sheriff for the past eight years. I have enjoyed the variety of work we do –- no day is the same– and I take pride in the fact that, as law enforcement officers, we contribute greatly to the community, solve problems, and do everything in our power to ensure their safety.
Who have been mentors and/or role models in your life/career?
Mentors and Role Models: My father, a Detective with the Metropolitan Washington, DC Police Department, was my first and foremost role model. Along my career, I have worked for many others that have taught and mentored me, from my first Corporal in Howard (who later became the Chief) Wayne Livesay, to my boss when I was at DEA Headquarters, Richie Fiano (who later worked for the Loudoun County Sheriff's Office under my command as our Chief Detective). And there were many others along the way from which I learned and helped me succeed. I am grateful for all of them – way too many to mention.
What do you enjoy doing in your time away from work?
I work many hours and, unfortunately, don't have much time away from work. I work out daily (Body Beast and/or run on the treadmill), and like to ride my Harley when time allows. I greatly enjoy keeping up with my six very successful children (I bask in their glory) and enjoy supporting them (and my seven grandchildren) at their special events, (graduations, sports, etc.).
What are some of your favorite songs on your music playlist?
Favorite Songs – My daughter, Molly (currently attending the US Naval Academy) designed a Spotify playlist for me based mostly on songs from the Serius XM Yacht Rock station. My favorite music generally includes bands from the 70s and 80s – Chicago, Doobie Brothers, Steely Dan, Kenny Loggins, Earth Wind and Fire, Boz Scaggs. I go as far back as the Beatles (grew up listening to and liking the Beatles as my older sister incessantly played their albums), and like music up to the current day – although I am not all that familiar with the artists, but recognize and like many of the songs.
What is your favorite book?
Favorite book of all time: "Catch 22".
What sports/teams do you root for?
Favorite Sports Team: I follow professional football, grew up in the DC area, and am still a supporter of the Washington Redskins (despite the type of season they have).
What drew you to law enforcement?
Growing up hearing the interesting police/detective stories my dad would tell me. I figured there was no other job on the planet that provided that much diversity and insight to human behavior.
What did you do before elected to the office of sheriff?
Before I entered into law enforcement, I achieved my black belt in Tae Kwon Do under the legendary Jhoon Rhee and received most of my instruction from 10th degree Grand Master Jeff Smith (who was the first light heavyweight world full contact karate champion). At 18 years old, I became the head instructor at the Jhoon Rhee Studio in Bowie, MD and trained and competed in six professional full contact bouts. While I enjoyed teaching and competing in the martial arts at a young age, I felt law enforcement was a better long term career option for me to pursue. I was hired just after turning 21 years old at the Howard County Police Department (youngest in the academy), married my high school sweetheart, and we quickly started a family. I earned my undergraduate degree from the University of MD (while a police officer); moved on to the Drug Enforcement Administration serving in Miami (during the crazy cocaine days); then Pakistan; then Tampa, FL; then as a supervisor on the border in McAllen, TX; then as the County Attaché (Narcotics Advisor to the Ambassador) in Seoul, Korea; then was promoted to Chief of Public Affairs for the DEA in DC; then I directed all operations for the Far East out of Bangkok, Thailand; then finished up my DEA career directing field operations in Northern, CA. Along the way, I earned a Master's Degree in Public Administration. I retired after receiving a great job offer from Booz Allen back in the Northern, VA area and, while there, decided to run for Sheriff. Although I had only lived in Loudoun County for just over a year, I was able to defeat a 16 year incumbent sheriff and have been serving ever since.
If you could have any superpower, what would it be and why?
I'd love to be able to cure cancer, mental illness or a host of other concerns that threaten our lives or wellbeing, but actually am just grateful to be alive, grateful for a wonderful family, and grateful that I am in a position to have a positive impact on the community we serve.
If you could visit any place in the world, where would it be?
While I have traveled much, I have never traveled to the Greek Islands. I'd like to take my wife there.
What are you most proud of?
I am most proud of my family, including my wife of over 40 years and my children. My oldest son (Patrick) who is a graduate of the US Naval Academy currently serves as a Commander and Executive Officer of the USS Arleigh Burke, a destroyer, and is expected to Captain that ship to Spain in less than two years. He has a wonderful wife and is a terrific father to 4 of my granddaughters. My oldest daughter (Elizabeth) who served in the Navy and graduated for the University of Florida (ROTC) is a mother of 3 of my 7 grandchildren is married to a Navy physician. My son Kevin who is a US Coast Guard graduate is married to his wonderful wife Bianna and currently works as a manager for Lyft in California. My son Andrew is an Air Force Academy graduate and Air Force Captain who handles protocol (flights of the President and other dignitaries) at Andrews Air Force Base. M son Ryan who graduated Virginia Tech after just three years and works at DeLoitte. And my daughter Molly who competes in track (VA 3rd place high jump State Championships for 2 years in a row) is attending the US Naval Academy and will compete in track there.
What's your favorite movie genre?
I tend to like action movies most.
What character trait do you most admire in others?
I most admire loyalty, character, honesty and sincerity.
Sheriff Mike Chapman's Bio –
Mike Chapman was elected Sheriff, Loudoun County, VA in 2011 and took office January 2012. He was reelected in 2015, and began his second term in January, 2016. He directs an $87M budget and operations for the largest Sheriff's office in the Commonwealth of Virginia which handles county-wide law enforcement, the jail and our courts. The Sheriff's Office employs approximately 800; 600 sworn deputies and 200 civilian personnel. The Loudoun County Sheriff's Office serves a population of 350,000 and an area of 519 square miles. During his first term in office, Sheriff Chapman expanded the Drug Abuse Resistance Education (DARE) to include both Elementary and Middle Schools, established a Cold Case squad; enhanced media outreach through integrated technology and a restructured website; introduced on-line reporting; professionalized the Human Resources and hiring processes; and improved training, accountability and efficiency. Sheriff Chapman also initiated a county-wide internet safety training program for parents (which has now been expanded to middle and high school students); added prescription and synthetic drug awareness with assistance from the Drug Enforcement Administration (DEA); partnered with county schools for "No-Texting and Driving" campaign; helped integrate mental health services, and initiated Crisis Intervention Team (CIT) Training for deputies and dispatchers. With a myriad of stakeholders he initiated the Heroin Operations Team (HOT) in response to the rapidly growing national and local heroin problem. HOT addresses heroin abuse through targeted enforcement, education, training, prevention, and treatment.

Sheriff Chapman is the current Vice President of Homeland Security for the Major County Sheriffs of America (MCSA). He previously served on the Governor's School and Campus Safety Task Force, the National Sheriffs' Association, Major County Sheriffs' Association, and the Virginia Sheriffs' Association's Congressional and Legislative Committees. He graduated from the FBI National Executive Institute (NEI) and Law Enforcement Executive Development Association (LEEDA); the US Army War College – National Security and Strategy Seminar (Certificate of Leadership Development); the National Sheriffs' Institute, the Virginia Sheriffs' Institute, and earned the Virginia Department of Criminal Justice Services' Executive certification. He has had articles published in professional periodicals to include the International Chiefs of Police The Police Chief and FBI LEEDA Insighter magazines, and provided numerous articles and editorials for local publications.

Sheriff Chapman formerly worked for the Howard County Maryland Police Department in the Divisions of Patrol, SWAT and Criminal Investigations; and for the DEA as the Assistant Special Agent in Charge, Northern District of California; as Acting Regional Director of the Far East; as DEA's Chief of Public Affairs; as the Country Attaché for Seoul, Korea; as a Supervisor in McAllen, Texas; and in field assignments in Miami, Tampa, and Pakistan. In the private sector, Sheriff Chapman worked as a Subject Matter Expert on the Global Security/Law Enforcement team with Booz Allen and Hamilton.
Sheriff Chapman is married to the former Ann Rafferty and they have six children and seven grandchildren. He has a Bachelor of Science in Business Management, University of Maryland (Honors), and a Master's in Public Administration from Troy State University, Alabama (4.0).
Getting to Know Your Virginia Sheriffs Archives

May – Alleghany County Sheriff Kevin Hall
June – Northampton County Sheriff David Doughty
July – Chesterfield County Sheriff Karl S. Leonard