Getting to Know Your Virginia Sheriffs – Frederick County Sheriff Lenny Millholland
This month we have the distinct pleasure to introduce you to Frederick County Sheriff Lenny Millholland. Sheriff Millholland serves Frederick County, the northernmost county in Virginia, that sits at the mouth of the beautiful Shenandoah Valley.
If you've missed our previous introductions this summer of our Virginia Sheriffs, links to these posts are below. We hope you will come to know and appreciate these men and women as much as we do! The monthly Sheriff introductions may also be found on our Facebook page, along with other interesting news items about our member sheriffs!
Get to Know Your Virginia Sheriff – Frederick County Sheriff Lenny Millholland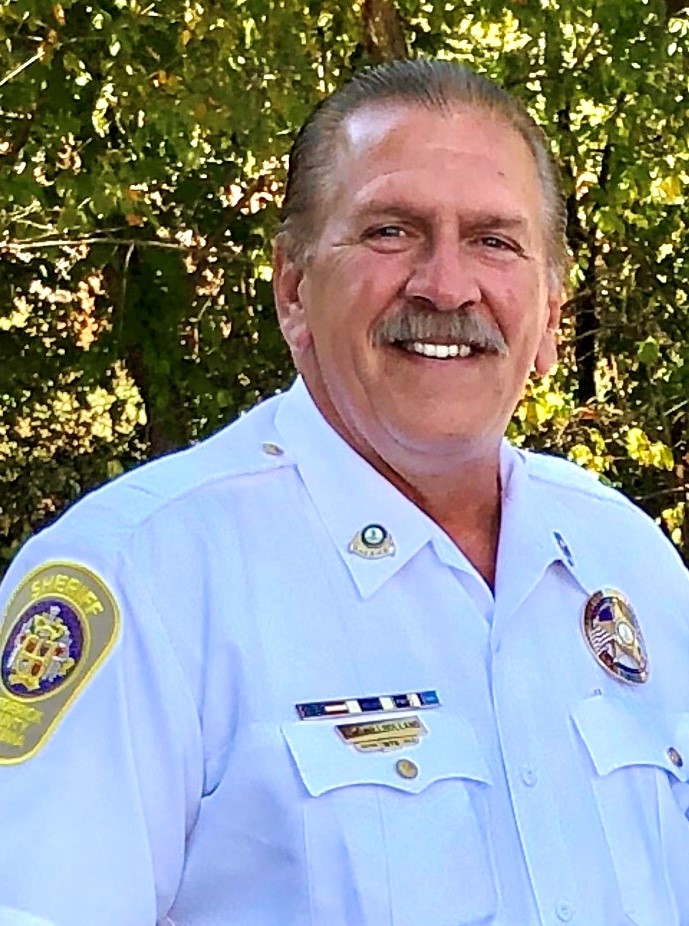 What are you working on that's new and different?
Safety and security in public schools is a top priority. We have struggled to put in school resource officers and are proud of successfully doing so. We are concentrating on training and certifying officers to protect our 14,000 students and 2,000 personnel.
What do you like most about your job?
I love serving the public; I am responsible for a group of men and women who make a difference every day in the lives of people.
Who have been mentors and/or role models in your life/career?
To name a few, when I was 18 years old Fred Yeager, a Maryland State Trooper with a police canine and Ronney Brown with Allegany County Sheriff's Office (MD) and the Sergeant in charge of canines, inspired me to change my career path. The last thing I wanted to do was be a police officer; I worked for veterinarian and changed my path and major from veterinarian medicine to criminal justice.
What do you enjoy doing in your time away from work?
Riding my motorcycle – Harley – going places, seeing things; messing around in the yard, including using my zero turn (lawn mower) cutting grass; fixing things and helping people who need some help.
What are some of your favorite songs on your music playlist?
I enjoy listening to Blake Shelton, George Jones, and Reba McEntire.
What sports/teams do you root for?
Redskins, Redskins and Redskins – I have had season tickets for close to 20 years; one day they may surprise me and win! I also was a NASCAR enthusiast, following Dale, Sr. and Dale, Jr.
What drew you to law enforcement?
Helping people in general. If I make one person smile, I have done exactly what my mother told me I should do every day. I'm also friends with Erik Estrada who always says that a 5 minute meeting or less with somebody should make them feel the most important for that time; you never know what an impact you'll have.
What did you do before elected to the office of sheriff?
I was a police officer with the Winchester Police Department for 22 years. I then left to run for Sheriff of Winchester City (3 terms) and then I ran and won the election for Frederick County Sheriff. I'm the only sheriff to be sheriff in two jurisdictions.
If you could have any superpower, what would it be and why?
Run fast — and then I wouldn't be late for anything.
If you could visit any place in the world, where would it be?
I would visit San Diego, CA. There are so many things here to go see; I might go to Alaska and go fishing.
What are you most proud of?
My personnel and what they do for the community every day – the things done in schools, our Community Connections program; and our investigated and patrol are hands down the best.
What's your favorite movie genre?
Crime drama – I try to solve them before the end of the movie in the first ten minutes.
What character do you most admire in others?
I like people who say exactly what they think; don't be around the bush.
Sheriff Lenny Millholland Bio –
Sheriff Lenny Millholland has been in law enforcement for over 40 years. While in school, Lenny worked for a veterinarian and had all ambitions of becoming one. After graduation, Lenny had numerous opportunities to interact and work with Police K-9s and developed a new passion. With this love, he started working at the Allegany County Sheriff's in Cumberland, Md. While Lenny had applied for employment with state police agencies in the region, he chose to make a new home in Winchester, VA. He started with the Winchester Police Department in December of 1979. Lenny worked his way through the agency, serving as a Patrol Officer, K-9 handler, and Lieutenant in the Criminal Investigations Division, handling major cases. In 2002, Lenny was elected Winchester City Sheriff and held that position for three 4-year terms before retiring. In 2016 Lenny was elected Frederick County Sheriff, the position he currently holds. Sheriff Lenny Millholland is responsible for 415 square miles and the safety and security for over 84,000 residents. Almost 14,000 of those residents are students enrolled in our school system. These kids are our tomorrow. We MUST keep them safe. Sheriff Lenny Millholland runs a full-service Sheriff's Office that is made up of Patrol, Criminal Investigations, Civil, and Administrative duties. There are currently 140 sworn personnel, 10 office personnel, and 5 Communications Specialists employed by the Frederick County Sheriff's Office. In 2018 the agency handled 81,072 calls for service (222 calls per day).
Getting to Know Your Virginia Sheriffs Archives
May – Alleghany County Sheriff Kevin Hall
June – Northampton County Sheriff David Doughty
July – Chesterfield County Sheriff Karl S. Leonard
August – Loudoun County Sheriff Mike Chapman