For the month of October, we are pleased to introduce to you Fairfax County Sheriff Stacey Kincaid, the very first woman elected Sheriff of Fairfax County, Virginia.  She is the first woman to lead the Sheriff's Office in its 277-year history. We asked her for words of wisdom for women who are in or are pursuing a career in law enforcement; see her answer below.  For other women in law enforcement, what are your words of wisdom to other women in law enforcement?
If you've missed our previous introductions this summer and fall of our Virginia Sheriffs, links to these posts may be found at the bottom of this page. We hope you will come to know and appreciate these men and women as much as we do! The monthly Sheriff introductions may also be found on our Facebook page, along with other interesting news items about our member sheriffs!
Get to Know Your Virginia Sheriffs – Fairfax County Sheriff Stacey Kincaid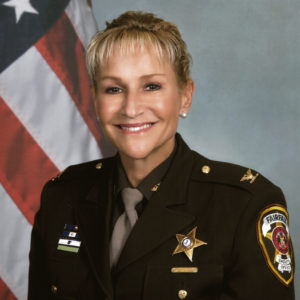 What are you working on that's new and different?
Last November I launched an intensive, highly structured addiction treatment and recovery program in our Adult Detention Center that addresses underlying trauma, restores dignity, provides hope and creates a plan for a sober future. We took the best practices we observed in Chesterfield County and adapted them to meet the needs of Fairfax County. The name of our program is STAR, Striving to Achieve Recovery. The program is led by two peer recovery specialists employed by the Community Services Board and assigned to the ADC. I also hired a re-entry specialist to liaison with our partners in the community and to help our participants prepare for life after jail.
What do you like most about your job?
What I like most about my job is having the opportunity to be a role model and a voice for those who don't have one. I am very proud of our diverse community outreach programs. I also love the fact that I can be an influential creator of change.
Who have been mentors and/or role models in your life/career?
My mom always told me that I could be whatever I wanted to be. She was my best friend, mentor and confidant.  In 1994, she told me that I could be the first woman elected Sheriff in Fairfax County.  Sadly, she did not live to see me elected Sheriff, but I know she is looking down at me from heaven, glowing like the brightest star with pride for what I have accomplished.  My two other role models are the Honorable Katherine K. Hanley and Bettina M. Lawton.  Both women provided guidance, coaching and mentoring prior to my first run for Sheriff.
What do you enjoy doing in your time away from work?
I like to travel, make jewelry and spend time with my family.
What are some of your favorite songs on your music playlist?
I like a variety of songs, but I particularly like anything by Ed Sheeran and the acapella group Pentatonix. I also like the George Mason University Pep Band known as the Green Machine.
What is your favorite book?
My favorite book will be the bestseller I write in my retirement.
What sports/teams do you root for?
I love all types of sports.  I root for the Washington Redskins when they aren't playing the Dallas Cowboys.  I also root for the Washington Nationals and the Washington Capitals.
What drew you to law enforcement?
Following my junior year in college, I had a summer internship with the Fairfax County Sheriff's Office. I worked in the inmate programs office where I provided one-on-one counseling for inmates. It was fascinating to me! We talked about what got them into their unfortunate circumstance and what programs were available in the jail to help them get on the right track… to plan for a better future once they got out of jail. When I returned to school for my senior year, I had a new plan. I was going to be a deputy sheriff.
Do you have any words of wisdom for other women in law enforcement?
Don't let any situation define you; you are more than that. Don't settle for the status quo. Step out of your comfort zone.
What did you do before elected to the office of sheriff?
Before I was elected Sheriff, I was a college student and then a deputy sheriff for 26 years.
If you could have any superpower, what would it be and why?
I wish I had the power to eradicate cancer.
If you could visit any place in the world, where would it be?
Santorini, Greece
What are you most proud of?
I am most proud of breaking the glass ceiling to be elected the first female Sheriff in the 277-year history of the Fairfax County Sheriff's Office. Some people might say that this is my greatest accomplishment. Let me you assure you that it is not. Rather than being the end of the game, it was just the beginning of my journey to make our agency the very best of the best. I am not in awe of my accomplishments. Instead, I look at each day as an opportunity to make something better than it was when I found it.
What's your favorite movie genre?
I like comedies because laughter is the best medicine for the soul.
What character do you most admire in others?
Authenticity
Sheriff Stacey Kincaid Bio –
Sheriff Stacey Kincaid is a 32-year veteran of the Fairfax County Sheriff's Office. Starting as a Sheriff's deputy right out of college, she worked her way up to the rank of captain before being elected Sheriff in 2013.  She is the first woman to lead the Sheriff's Office in its 277-year history. She serves Fairfax County, the City of Fairfax and the Towns of Herndon and Vienna.
As Sheriff, she has enhanced staff diversity, implemented new training programs and created a more equitable and transparent promotional process. One of her top priorities is to change the way our criminal justice and behavioral health systems interact, resulting in better outcomes for individuals and the community. She helped spearhead Diversion First, Fairfax County's wide-ranging, collaborative initiative that offers alternatives to incarceration for people with mental illness and co-occurring substance use disorders who come into contact with the criminal justice system for low level offenses. Sheriff Kincaid has expanded inmate programs and created more opportunities for a safe and productive reentry into the community upon release. She also has greatly increased community outreach activities while fostering sustainable public and private partnerships.
In 2014, Lawyers Weekly presented Sheriff Kincaid with an Influential Women of Virginia award, which recognizes women in all fields who are making notable contributions to their chosen professions, their communities and society at large. In 2017, the Junior League of Northern Virginia honored her with its annual Woman of Vision award for exemplifying the League's mission of promoting volunteerism, developing the potential of women and improving communities. Also in 2017, she was appointed to the Virginia Law Enforcement Professional Standards Commission. She is a 2009 graduate of Leadership Fairfax and is a member of its Board of Directors.
Sheriff Kincaid serves on the Fairfax County Domestic Violence Prevention, Policy & Coordinating Council and its Leadership Committee, Just Ask Prevention Board of Directors, Fairfax-Falls Church Partnership to Prevent and End Homelessness Governing Board, SCAN Northern Virginia Honorary Board of Directors and Special Olympics Virginia Board of Directors.
Sheriff Kincaid received her bachelor's degree in political science and criminal justice from Frostburg State University. Her college internship at the Sheriff's Office sparked her interest in a career as a deputy sheriff.  In 2008, Sheriff Kincaid received the agency's highest honor, the Distinguished Service Award, which recognizes a career of sustained, exemplary performance.
Getting to Know Your Virginia Sheriffs Archives
May – Alleghany County Sheriff Kevin Hall
June – Northampton County Sheriff David Doughty
July – Chesterfield County Sheriff Karl S. Leonard
August – Loudoun County Sheriff Mike Chapman
September – Frederick County Sheriff Lenny Millholland