Get to Know Your Sheriffs – Sheriff Antionette Irving – City of Richmond
For the month of November, we are pleased to introduce to you City of Richmond Sheriff Antionette Irving. We asked her tell us a little about her career in law enforcement. Dr. Antionette V. Irving Sheriff of the City of Richmond commented that "It is an honor and pleasure for me to serve the citizens and communities of the City of Richmond."
If you've missed our previous introductions this summer and fall of our Virginia Sheriffs, links to these posts may be found at the bottom of this page. We hope you will come to know and appreciate these men and women as much as we do! Our Sheriff introductions may also be found on our Facebook page, along with other interesting news items about our member sheriffs!
Get to Know Your Virginia Sheriffs – Richmond City Sheriff Antionette Irving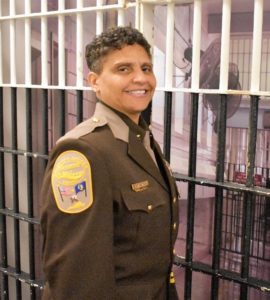 What are you working on that's new and different?
Among the many initiatives the Richmond City Sheriff's Office is working on, we want to highlight the following:

Hepatitis A vaccinations;
Naloxone education and usage;
Secondary and post-secondary education;
Vocational program certifications for the inmate/resident population;
Job mentors and coaches for inmates returning back into society;
Inmate family mediation and reunification;
Restorative justice practices;  
Inmate skill building; and
Working towards American Correctional Association accreditation.

What do you like most about your job?
Representing the City of Richmond, my City, and being able to influence and improve the lives of others, building relationships and growing young people. Building rapport with the youth of the City.
Who have been mentors and/or role models in your life/career?
My grandmother and my mother because of their work ethics, strength, independence, compassion, strong-will and determination.
What do you enjoy doing in your time away from work?
Spending time with my family especially our dogs.
What are some of your favorite songs on your music playlist?
I listen to a variety mix and all types of music.
What is your favorite book?
Books about influential leadership and influencing change, and devotional types of books.
What sports/teams do you root for?
I enjoy supporting a variety of sports teams, including USA Women's/Men's Basketball, South Carolina Women's Basketball, Washington Nationals, Washington Mystics, Shaw University Athletics, Alabama Football, CIAA Athletics, UVA Athletics and the Washington Capitals and Wizards.  I especially root for local athletes from our the Tri-Cities area and Virginia area as they move on to different levels (college and professional).
What drew you to law enforcement?
Wanting to help others and to make the community a safer place.
What did you do before elected to the office of sheriff?
Retired from the Henrico Sheriff's Office;
Certified Mediator with the Virginia Supreme Court
Restorative Justice Facilitator
Ran the Antionette V. Irving Foundation, Inc.
Voluntered with the Salvation Army Boys and Girls Club and the Advisory Board 
Refereed high school and college basketball
10. If you could have any superpower, what would it be and why?
I would be able to cure all illnesses & diseases; eliminate poverty and homelessness; create jobs for all and improve the educational system.
11. If you could visit any place in the world, where would it be?
Hawaii
12. What are you most proud of?
The journey that led me to this point in my life of who I am today (professionally, educationally, athletically and spiritually).
13. What's your favorite movie genre?
Drama, action and adventure.
14. What character do you most admire in others?
There are too many to pick just one; I admire transparency, confidence, accountability, determination, commitment, decision making ability, empowerment, good work ethics and creativity.
Dr. Antionette V. Irving
Biography
On January 1, 2018, Dr. Antionette V. Irving became Sheriff of the City of Richmond facilitating one of the largest Sheriff's Offices in the Commonwealth, to include over 450 sworn and civilian staff members.
Sheriff Irving is a proud native of the City of Richmond and product of Richmond Public Schools where she learned the values of respect and discipline that have served her throughout her career. Growing up a child of substance abuse and domestic violence in the Church Hill of Richmond to include the city's Creighton Court public housing project, she viewed life with no obstacles or boundaries. A graduate of Armstrong-Kennedy High School, her strong work ethics drove her to become a basketball standout, eventually being named to both the Armstrong Kennedy High School Athletic Hall of Fame and the Shaw University Athletic Hall of Fame.
Sheriff Irving enjoyed a 26+ year career in the Henrico Sheriff's Office and was the first woman to be promoted to the rank of Major in either the Henrico Sheriff's Office or Police Department. Her leadership and vision encompasses organizational management, fiscal administration, human resources development, conflict and dispute resolution, mediation and community relations. Sheriff Irving's focus is on establishing a culture of excellence at the Sheriff's Office by focusing on the professional development of the staff, establishing strong community partnerships, and equipping residents of the Richmond City Justice Center with the resources they need to prepare themselves for successful reentry into society.
Sheriff Irving is a committed mentor, civic leader, and philanthropist in the City of Richmond.  She volunteers within the community, as well as, with the Saint Paul's Baptist Church and the Salvation Army Boys and Girls Club. A child of domestic violence and substance abuse, Sheriff Irving is a strong proponent of education and youth development. She strives to encourage young people to develop strong values, self-esteem, self-reliance, character, and discipline through the AVI Foundation, which she founded.
In addition to her BA in Criminal Justice from Shaw University, Sheriff Irving earned her Master of Science in Administration from Central Michigan University, and her PhD in Business Administration with a concentration in Criminal Justice from North Central University. Sheriff Irving's numerous honors and recognitions include:
Inducted into the 2019 Richmond Public Schools (RPS) Athletic Hall of Fame
Chair of the Salvation Army Boys and Girls Club Advisory Council 2019
Living Legend Honoree, National Alumni Association of Shaw University, 2018
Emerge Virginia Boot Camp, Class of 2017
Martin Luther King, Jr. Drum Major Award, 2017 honoree
Past President, Virginia Center for Restorative Justice
Leadership Metro Richmond, graduate 2008
YWCA Women of the Year in Government and Politics, 2002 honoree
Golden Life Member, Delta Sigma Theta Sorority, Inc.
Charter Member, Henrico County Alumnae Chapter, Delta Sigma Theta Sorority, Inc.
Getting to Know Your Virginia Sheriffs Archives
May – Alleghany County Sheriff Kevin Hall
June – Northampton County Sheriff David Doughty
July – Chesterfield County Sheriff Karl S. Leonard
August – Loudoun County Sheriff Mike Chapman
September – Frederick County Sheriff Lenny Millholland
October – Fairfax County Sheriff Stacey Kincaid