Get to Know Your Sheriffs – Sheriff Darrell W. Warren, Jr. – Gloucester County
For the month of December, we are excited to introduce to you Gloucester County Sheriff Darrell W. Warren, Jr. We asked him to give us insight into his career as well as what inspires him outside of law enforcement. When asked how law enforcement officials can work to build trust within their communities, Sheriff Warren replied, "Communicate with all members of the public that you serve and be honest and transparent. Establish and maintain relationships with community stakeholders before an incident occurs. If you make a mistake, own it. Trust is earned, not automatic."
If you've missed previous introductions of our Virginia Sheriffs, links to these posts may be found at the bottom of this page. We hope you will come to know and appreciate these individuals as much as we do! Our Sheriff introductions may also be found on our Facebook page, along with other interesting news items about our member sheriffs!
Get to Know Your Virginia Sheriffs – Gloucester County Sheriff Darrell W. Warren, Jr.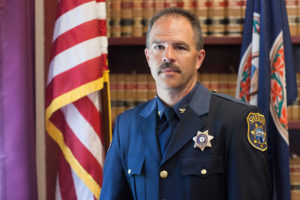 1. What new initiatives do you plan to focus on?
The Sheriff's Office recently purchased two drones using funds from our asset forfeiture account to add a resource to our uniform patrol and criminal investigations divisions. Multiple members of each patrol shift will complete the certification training required to be able to operate the drones safely and legally. The plan is to utilize the drones to save valuable time in searching for missing persons (adults or children) whom may have wandered off due to a mental health issue or may have simply become lost. The program will also serve as a means of searching for a fugitive who has recently fled a scene. It is a much safer approach to search with technology rather than unnecessarily exposing deputies to the uncertain elements of nature or to an individual who may be lying in wait.    
2. How has COVID-19 impacted you, your office, your work?
The summer is our favorite time of year and feeling forced to stay at home made things difficult, but we are all in this together. I realize that many families have had to make far greater sacrifices than mine. Our main goal at work is to provide our staff with the necessary equipment and information to maintain the health and safety of our employees, citizens, and inmates.
3. In light of the social unrest across Virginia and the nation, how can the sheriff's office and law enforcement as a whole work to build trust among their communities?
Communicate with all members of the public that you serve and be honest and transparent. Establish and maintain relationships with community stakeholders before an incident occurs. If you make a mistake, own it. Trust is earned, not automatic. We make proactive strides to earn respect each and every day simply by being actively engaged in our community   
4.   To what do you look forward most about your job? 
I most look forward to solving problems and working with the awesome men and women that make up the sheriff's office team.
5.   Who have been mentors and/or role models in your life/career? 
My greatest role model was my father who retired as Chief Deputy of the York County Sheriff's Office in 1993. Two of my mentors are the late Sheriff Robin Stanaway, who gave me a chance when he hired me in 1991 and demanded excellence from those that worked for him, and York-Poquoson Sheriff Danny Diggs, who served as a great mentor to me when I took office in 2012. I believe they all helped shape me into the Sheriff I am today.
6.   What do you enjoy doing in your time away from work?
When I'm not working, I love boating, spending time at the beach, and working out in the gym.
7.   What are some of your favorite songs on your music playlist?
I love Bon Jovi's "Blaze of Glory," Cole Swindell's "Love You Too Late," and The Police's "Message in a Bottle."
8.   What is your favorite book?
My favorite book is Street Survival.
9.   What sports/teams do you root for?
I root for the Dallas Cowboys.
10.  What drew you to law enforcement?
My father worked in law enforcement during my entire childhood.
11.  What did you do before being elected to the office of sheriff?
Prior to working as Sheriff, I was the Chief Deputy of the Gloucester County Sheriff's Office.
12.  If you could have any superpower, what would it be and why?
If I could have any superpower, I would like to have the ability to unify our country, because we are stronger when we are together.
13.   If you could visit any place in the world, where would it be?
Aruba. My wife and I have vacationed there several times, and we love it.
14.   What are you most proud of?
I am very proud of the work that the men and women of the sheriff's office do every day to make a difference in Gloucester County. I am also extremely proud of my daughter Ashley, who obtained her RN Degree and was hired this year as a nurse in the Critical Care Unit of Riverside Regional Hospital.
15.   What's your favorite movie genre?
I love comedies.
16.   What character trait do you most admire in others?
I most admire courage. We see it every day: law enforcement officers running towards danger while others flee for their safety, and our military members leaving their families behind to fight for our freedom in foreign countries where Americans are hated.
Sheriff Darrell W. Warren, Jr. Biography
Gloucester County Darrell W. Warren, Jr. commands a progressive Sheriff's Office with over 100 deputies and civilian personnel. The Sheriff's Office is responsible for providing primary law enforcement services to over 37,000 citizens. The Sheriff's Office is also responsible for the 911 Center, the County Jail, provides security for the County Courthouse, and the Civil Process Division serves several thousand civil papers annually.  
Warren joined the Gloucester Sheriff's Office in 1991 as a patrol deputy and worked his way up through every rank in the agency until ultimately being elected Sheriff in 2012.
Sheriff Warren is a graduate of the 236th session of the F.B.I. National Academy, a 2001 graduate of the Professional Executive Leadership School at the University of Richmond and he holds a degree in Administration of Justice. Warren also serves as the President of the Virginia Sheriff's Association.
Getting to Know Your Virginia Sheriffs Archives
May 2019 – Alleghany County Sheriff Kevin Hall
June 2019 – Northampton County Sheriff David Doughty
July 2019 – Chesterfield County Sheriff Karl S. Leonard
August 2019 – Loudoun County Sheriff Mike Chapman
September 2019 – Frederick County Sheriff Lenny Millholland
October 2019 – Fairfax County Sheriff Stacey Kincaid
November 2019 – City of Richmond Sheriff Dr. Antionette Irving
December 2019 – City of Salem Sheriff April Staton
January 2020 – City of Hampton Sheriff B.J. Roberts
February 2020 –  Lunenburg County Sheriff Arthur Townsend
June 2020- Rapphahannock County Sheriff Connie Compton
July 2020- Lee County Sheriff Gary Parsons
September 2020- City of Falls Church Sheriff Metin "Matt" Cay
November 2020- Dinwiddie County Sheriff D.T. "Duck" Adams