Get to Know Your Sheriffs – Sheriff Michael A. Moore – City of Portsmouth
For the month of January, we are excited to introduce to you City of Portsmouth Sheriff Michael A. Moore. We asked him to give us insight into his career as well as what inspires him outside of law enforcement. When asked what superpower he would like to have, Sheriff Moore replied, "If I could have any superpower, it would be the power to eradicate racism, thereby giving everyone an equal opportunity to live their best life."
If you've missed previous introductions of our Virginia Sheriffs, links to these posts may be found at the bottom of this page. We hope you will come to know and appreciate these individuals as much as we do! Our Sheriff introductions may also be found on our Facebook page, along with other interesting news items about our member sheriffs!
Get to Know Your Virginia Sheriffs – City of Portsmouth Sheriff Michael A. Moore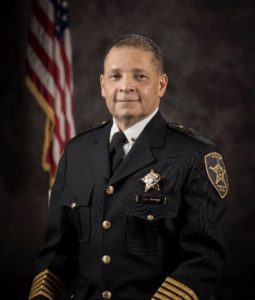 What new initiatives do you plan to focus on?
I plan to focus on workforce development of the inmates through Stable Transitional Employment Program (STEP). This program provides opportunities for gainful employment upon release. The program provides the incarcerated with confidence and skillsets to become productive citizens upon their release. My office is currently enhancing the Sheriff's Anti-Violence Effort (SAVE) Program. This effort provides the community with law enforcement presence to reduce criminal activity.
How has COVID-19 impacted you, your office, your work?
The COVID-19 pandemic has impacted all aspects of life for myself, our personnel, and incarcerated citizens. The biggest challenge is effectively managing the protocols the agency has provided to reduce the spread of the virus. We are dedicated to doing what we must to stop the spread of COVID-19.
In light of the social unrest across Virginia and the nation, how can the sheriff's office and law enforcement as a whole work to build trust among their communities?
The greatest way to build trust is to become a part of the communities that we serve. Our communities must see that we have a vested interest in the growth and development of relationships to build stronger and safer communities.
To what do you look forward most about your job?
I look forward each day to having the opportunity to positively impact the lives of all of our citizens.
Who have been mentors and/or role models in your life/career?
My parents and my neighbors growing up set some fine examples that influenced my work ethic and high moral standards.
What do you enjoy doing in your time away from work?
I enjoy spending time with my family. I enjoy outdoor sports, physical fitness, and working in my yard.
What are some of your favorite songs on your music play list?
I enjoy most music genres, but smooth jazz and gospel are my favorites.
What is your favorite book?
When it comes to books, I enjoy anything authored by James Baldwin and Dr. Martin Luther King, Jr.
What sports/teams do you root for?
I became a Steelers fan while living in Pittsburgh. I also root for the Los Angeles Lakers.
What drew you to law enforcement?
The opportunity to make a positive change in my own community.
What did you do before being elected to the office of sheriff?
I began my law enforcement career as a trooper with the Virginia State Police in Southampton County, Virginia. I began my federal law enforcement career as a special agent with the Drug Enforcement Administration (DEA) in Pittsburgh, Pennsylvania. The last 22 years of my law enforcement career was as a special agent/supervisor at the Bureau of Alcohol, Tobacco Firearms and Explosives (ATF). Upon retiring in 2012, I began teaching in the health science curriculum at John Tyler Community College, Blueridge Community College, Mountain Empire Community College, and Tidewater Community College.
If you could have any superpower, what would it be and why?
If I could have any superpower, it would be the power to eradicate racism, thereby giving everyone an equal opportunity to live their best life.
If you could visit any place in the world, where would it be?
If I could visit any place in the world, it would be a rainforest.
What are you most proud of?
I am most proud of my daughters for the simple reason that they have developed into women who have a strong mind-set that a paycheck is not more important than striving for a worthwhile life for yourself, as well as for others.
What's your favorite movie genre?
I enjoy action movies.
What character trait do you most admire in others?
I admire bravery, as in our essential workers. All of those on the daily frontline: medical workers, military, law enforcement, firefighters, teachers, grocery store workers, food service, childcare workers, and delivery drivers. I admire all those who go to work daily to meet our community needs.
Sheriff Michael A. Moore Biography
The Honorable Michael A. Moore, Sheriff of the City of Portsmouth, has a stellar law enforcement career spanning over 30 years. Sheriff Moore started his calling for public service as a Trooper with the Virginia State Police. Moore graduated from the Virginia State Police Academy in 1986 as Vice President of the 75th Basic Session. After his tenure with the VSP, Moore began his service on the Federal side as a Special Agent with the Drug Enforcement Administration (DEA), assigned to the Norfolk, Virginia division and later the Pittsburg, PA area.
From there, Moore began his career with the Bureau of Alcohol, Tobacco, Firearms and Explosives (ATF) as a Special Agent, elevating to a Supervisory Special Agent in Detroit, MI, Norfolk, VA, Richmond, VA, and Charlottesville, VA. Moore was also assigned to the U.S. Department of Justice, Office of Internal Affairs Washington D.C. Sheriff Michael Moore retired from the U.S. Department of Justice in 2012.
Sheriff Michael Moore graduated from John Tyler Community College with a degree in Mortuary Science. Moore also graduated from Norfolk State University with a degree in Criminal Justice.
Michael A. Moore began teaching in the Funeral Service Program in 2012, at John Tyler Community College. Moore also was instructor and lecture for the Funeral Service Program via teleconference, at Blue Ridge Community College, and Mountain Empire Community College, until 2016. At present, Sheriff Moore is an adjunct professor in the Funeral Services Program at Tidewater Community College.
Getting to Know Your Virginia Sheriffs Archives
May 2019 – Alleghany County Sheriff Kevin Hall
June 2019 – Northampton County Sheriff David Doughty
July 2019 – Chesterfield County Sheriff Karl S. Leonard
August 2019 – Loudoun County Sheriff Mike Chapman
September 2019 – Frederick County Sheriff Lenny Millholland
October 2019 – Fairfax County Sheriff Stacey Kincaid
November 2019 – City of Richmond Sheriff Dr. Antionette Irving
December 2019 – City of Salem Sheriff April Staton
January 2020 – City of Hampton Sheriff B.J. Roberts
February 2020 –  Lunenburg County Sheriff Arthur Townsend
June 2020- Rapphahannock County Sheriff Connie Compton
July 2020- Lee County Sheriff Gary Parsons
September 2020- City of Falls Church Sheriff Metin "Matt" Cay
November 2020- Dinwiddie County Sheriff D.T. "Duck" Adams
December 2020- Gloucester County Sheriff Darrell W. Warren, Jr.