David K. Bell Appointed as City of Roanoke Sheriff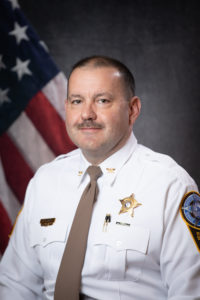 On February 1, 2021, Sheriff David K. Bell was appointed as Sheriff for the City of Roanoke. Sheriff Bell has close to 29 years of law enforcement service at the Roanoke Sheriff's Office, with the last 11 years as Chief Deputy. Out of those 11 years, the last 7 were under Sheriff Allen, who retired with a year left in his second term.
Sheriff Bell is a lifelong resident of Roanoke and was born and raised in Roanoke City and attended Roanoke City Public Schools. He is a graduate of National Jail Leadership Command Academy in Huntsville, TX (Class #18 – 2015). He and his family reside in Roanoke City. He and his wife of 30 years have three wonderful children and two grandsons.
Sheriff Bell began working as a deputy for the Roanoke Sheriff's Office in 1992. He has worked under four different sheriffs during his tenure and held all ranks from Deputy to Major. On January 31, 2021, Retired Sheriff Allen left with one year left in his second term, appointing his Chief Deputy, David Bell, to Sheriff. Sheriff Bell has managed the department's $18 million budget and has been responsible for the orderly and efficient operation of the Roanoke City Jail and Courthouse, which includes monitoring and tracking all grant activities and expenditures, jail contracts, being the Chief purchasing and procurement officer and the liaison to Virginia Risk Management for all civil litigation.
Sheriff Bell is a state certified General Instructor, Firearms Instructor, Intermediate Weapons Instructor, VCIN Instructor and certified Auditor with the American Correctional Association. He also had oversight on multiple improvement projects at the Roanoke City Jail, including the successful implementation of a new mental health housing unit to address the biggest ongoing issues faced by correctional facilities. He is committed to the staff and community, serving in a positive capacity that will impact his term of Sheriff. Sheriff Bell looks forward to continue moving the organization in a progressive manner.