Get to Know Your Sheriffs – Sheriff Jeremy Fleming – Dickenson County
For the month of February, we are excited to introduce to you Dickenson County Sheriff Jeremy Fleming. We asked him to give us insight into his career as well as what inspires him outside of law enforcement. When asked how law enforcement could build trust among their communities, Sheriff Fleming replied, "I feel the best way to build trust within your community is to be an active participant in the community which we serve. I enjoy being invested in our community and its growth, and forming relationships with our citizens, which has helped to bridge the divide."
If you've missed previous introductions of our Virginia Sheriffs, links to these posts may be found at the bottom of this page. We hope you will come to know and appreciate these individuals as much as we do! Our Sheriff introductions may also be found on our Facebook page, along with other interesting news items about our member sheriffs!
Get to Know Your Virginia Sheriffs – Dickenson County Sheriff Jeremy Fleming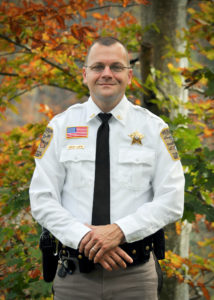 What new initiatives do you plan to focus on?
I am dedicated to Dickenson County's Drug Treatment Court and Community Work Program. I stand firm in my beliefs that this program should assist those struggling with addiction to maintain sobriety, reducing the number of incarcerations, supporting community work projects, and changing their lives and the lives of their families.
How has COVID-19 impacted you, your office, your work?
COVID-19 has impacted all aspects of our lives in Dickenson County. The Sheriff's Office was required to implement a COVID-19 Preparedness Plan. We are conducting duties with PPE and taking cautionary measures when social distancing isn't feasible. Our staff continues to show up and do what is necessary to prevent the spread of the virus and to cover shifts as needed when co-workers have been quarantined. While it has been a challenge, our department has effectively managed the protocols set forth and remains dedicated to serving the citizens.
In light of the social unrest across Virginia and the nation, how can the sheriff's office and law enforcement as a whole work to build trust among their communities?
I feel the best way to build trust within your community is to be an active participant in the community which we serve. I enjoy being invested in our community and its growth, and forming relationships with our citizens, which has helped to bridge the divide. Our citizens can find me out patrolling, picking up trash, assisting other officers on calls, delivering food boxes, and participating in our community events.
To what do you look forward most about your job?
I most look forward to serving citizens and making a difference in our community that will have a lasting effect for years to come.
Who have been mentors and/or role models in your life/career?
There have been many people in my life who have had a positive influence.  I am especially grateful for law enforcement officers who mentored and taught me not only about how to do the job, but provided life lessons which instilled great work ethic and high moral standards that I have carried with me.
What do you enjoy doing in your time away from work?
I enjoy hunting, fishing, playing golf, and hiking.
What are some of your favorite songs on your music playlist?
I am a fan of country music, in particular songs about life.
What is your favorite book?
The Bible is my favorite book.
What sports/teams do you root for?
I root for our local high school teams, the Ridgeview Wolfpack. I am also a fan of the Las Vegas Raiders.
What drew you to law enforcement?
I have always wanted to help others. Through law enforcement, I am able to do just that, especially when people may need it the most. It was always a goal of mine to serve the public and to use my abilities to positively impact the lives of others.
What did you do before being elected to the office of sheriff?
I worked for the Virginia Department of Corrections for seven years, and then as a county deputy from 2009-2016. Following this, I worked for UVA College at Wise Campus Police until I was elected as Sheriff in 2020.
If you could have any superpower, what would it be and why?
I would like to have the ability to cure cancer, as I have seen many great people lose their battles with the disease. It's time we find a cure.
If you could visit any place in the world, where would it be?
I would like to visit Alaska.
What are you most proud of?
I am most proud of my family.
What's your favorite movie genre?
Dramas are my favorite.
 What character trait do you most admire in others?
I admire work ethic and morals.
Sheriff Jeremy Fleming Biography
A lifelong resident of Dickenson County, Sheriff Jeremy Fleming, 40, has been in law enforcement for 19 years. His career started with the Virginia Department of Corrections in 2002. He then was employed with the Dickenson County Sheriff's Office from 2009-2016, where he became a Field Training Officer and was the recipient of the MADD award for five consecutive years. In 2016, he went to the University of Virginia's College at Wise, where he served as a Campus Police Officer until he was elected Sheriff of Dickenson County in November 2019. 
Sheriff Fleming served a four-year term as a Clintwood Town Council Member from 2014-2018. He currently serves on several local boards and committees. He has been on the Clintwood Rescue Squad Board of Directors for the last 6 years.  He serves on the Executive Board of Directors at the Southwest Virginia Criminal Justice Training Academy and holds a position on the Southwest Virginia Regional Jail Authority Board.  
Getting to Know Your Virginia Sheriffs Archives
May 2019 – Alleghany County Sheriff Kevin Hall
June 2019 – Northampton County Sheriff David Doughty
July 2019 – Chesterfield County Sheriff Karl S. Leonard
August 2019 – Loudoun County Sheriff Mike Chapman
September 2019 – Frederick County Sheriff Lenny Millholland
October 2019 – Fairfax County Sheriff Stacey Kincaid
November 2019 – City of Richmond Sheriff Dr. Antionette Irving
December 2019 – City of Salem Sheriff April Staton
January 2020 – City of Hampton Sheriff B.J. Roberts
February 2020 –  Lunenburg County Sheriff Arthur Townsend
June 2020 – Rapphahannock County Sheriff Connie Compton
July 2020 – Lee County Sheriff Gary Parsons
September 2020 – City of Falls Church Sheriff Metin "Matt" Cay
November 2020 – Dinwiddie County Sheriff D.T. "Duck" Adams
December 2020 – Gloucester County Sheriff Darrell W. Warren, Jr.
January 2021 – City of Portsmouth Sheriff Michael A. Moore