For the month of March, we are excited to introduce to you Appomattox County Sheriff Donald Simpson. We asked him to give us insight into his career as well as what inspires him outside of law enforcement. When asked what new initiatives he plans to focus on, Sheriff Simpson replied, "My focus in 2021 will be to continue to build connections in the community with those individuals that feel the least connected to the sheriff's office. I am also equally committed to creating and maintaining a culture of community service within our department."
If you've missed previous introductions of our Virginia Sheriffs, links to these posts may be found at the bottom of this page. We hope you will come to know and appreciate these individuals as much as we do! Our Sheriff introductions may also be found on our Facebook page, along with other interesting news items about our member sheriffs!
Get to Know Your Virginia Sheriffs – Appomattox County Sheriff Donald Simpson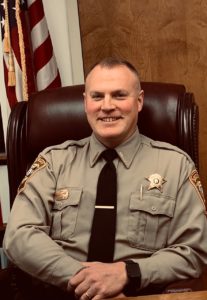 1.   What new initiatives do you plan to focus on?
My focus in 2021 will be to continue to build connections in the community with those individuals that feel the least connected to the sheriff's office. I am also equally committed to creating and maintaining a culture of community service within our department.
2.   How has COVID-19 impacted you, your office, your work?
COVID-19 has impacted every aspect of our operations. Being a small department, having one person out of work due to sickness or exposure creates a huge impact on patrol shift coverage. In addition, we had to work with our judges and completely re-think courthouse operations due to COVID-19.
3.   In light of the social unrest across Virginia and the nation, how can the sheriff's office and law enforcement as a whole work to build trust among their communities?
Sheriffs are in a unique position to build upon and promote a culture of community policing that naturally exists between a Sheriff and their respective communities.  The fact that Sheriffs are elected and accountable to the people naturally fosters a connection of trust with the voters that must be constantly nurtured. This is done through transparency, fairness, and effectiveness.
4.   To what do you look forward most about your job?
As Sheriff, you have the ability to make decisions that foster real change. I like being able to make changes that make a positive difference in the office and community.
5.   Who have been mentors and/or role models in your life/career?
My life role models are definitely both of my grandfathers. Both have been gone for many years now, but I was fortunate to know them during my most formative years. My maternal grandfather was a Southwest Virginia coal miner who worked his way from a child laborer in the mines to retiring as a Federal mine inspector. My paternal grandfather was a profitable tobacco and crop farmer well into his 90s. I turn to the morals, work ethic, and life lessons I learned from those men every day.
6.   What do you enjoy doing in your time away from work?
I love saltwater surf-fishing, traveling, hiking…anything outdoors.
7.   What are some of your favorite songs on your music playlist?
I love anything by Jimmy Buffett or Townes Van Zandt, but I also need "workout" music too…
8.   What is your favorite book?
Ernest Hemingway's The Old Man and the Sea is my favorite book. I've read it three times at three different points in my life. It has a different meaning each time.
9.   What sports/teams do you root for?
I root for the Appomattox County High School Raiders, specifically the four–time State Champion football team.
10.   What drew you to law enforcement?  
The thought of solving a big murder case drew me to law enforcement. I have always been fascinated by criminal investigations. I found the most rewarding time in my career to be the ten years spent as a criminal investigator.
11.   What did you do before being elected to the office of sheriff?
I started at the sheriff's office in 1994 at 19 years old. I held every position at the office at some point, other than jail cook and secretary. I was serving as Chief Deputy when elected Sheriff in 2019.
12.   If you could have any superpower, what would it be and why?
I would like to time travel, but only to the past. I would not want to know definitively what the future holds.
13.   If you could visit any place in the world, where would it be?
I would love to see the top of Mount Everest. I have no desire to do the hike, I just want the view from the top.
14.   What are you most proud of?
Without question, I am most proud of my sons. Both graduated from community college before they graduated from high school. My oldest went on to VMI, graduated, and is now a commissioned officer in the Virginia Army National Guard. He also works in management at Amazon. My youngest has started his own successful contracting company, works for the Virginia Department of Emergency Management, and recently won a spot on the Appomattox Town Council.
15.   What's your favorite movie genre?
I most enjoy epic war movies.
16.   What character trait do you most admire in others?
It's really two: courage and faith.
Sheriff Donald Simpson Biography
A lifelong resident of Appomattox County, Sheriff Donald Simpson, 46, has been in law enforcement nearly 27 years. He graduated from Appomattox County High School, attended Old Dominion University and Radford University, and holds a degree in Criminal Justice from Columbia Southern University. He started at the Appomattox County Sheriff's Office in May 1994 as a Jailer/Dispatcher.
Simpson graduated from the Central Virginia Criminal Justice Academy Law Enforcement Basic School #42 in February 1995. He served as a patrol deputy from 1994 to 2003. From 2003-2012, Simpson was a criminal investigator. He served on the Central Virginia Homicide Squad, The Central Virginia Computer Crimes Task Force, and the Southern Virginia Internet Crimes Against Children (SOVA-ICAC) Task Force. From 2012- 2019, he served as Chief Deputy at the rank of Major.
On January 1, 2020, he took office as the elected Sheriff of Appomattox County. Sheriff Simpson also serves on the Blue Ridge Regional Jail Authority Board and The Piedmont Community Criminal Justice Board. Sheriff Simpson's wife, Myra, is the Deputy Director of Public Safety at Campbell County. They have two adult sons and enjoy traveling and spending time with them.
Getting to Know Your Virginia Sheriffs Archives
May 2019 – Alleghany County Sheriff Kevin Hall
June 2019 – Northampton County Sheriff David Doughty
July 2019 – Chesterfield County Sheriff Karl S. Leonard
August 2019 – Loudoun County Sheriff Mike Chapman
September 2019 – Frederick County Sheriff Lenny Millholland
October 2019 – Fairfax County Sheriff Stacey Kincaid
November 2019 – City of Richmond Sheriff Dr. Antionette Irving
December 2019 – City of Salem Sheriff April Staton
January 2020 – City of Hampton Sheriff B.J. Roberts
February 2020 –  Lunenburg County Sheriff Arthur Townsend
June 2020 – Rapphahannock County Sheriff Connie Compton
July 2020 – Lee County Sheriff Gary Parsons
September 2020 – City of Falls Church Sheriff Metin "Matt" Cay
November 2020 – Dinwiddie County Sheriff D.T. "Duck" Adams
December 2020 – Gloucester County Sheriff Darrell W. Warren, Jr.
January 2021 – City of Portsmouth Sheriff Michael A. Moore
February 2021- Dickenson County Sheriff Jeremy Fleming