Honoring Our Vietnam Veterans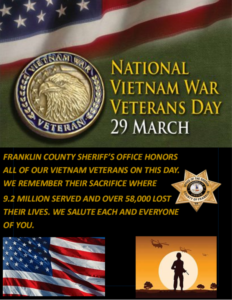 Vietnam Veterans Day commemorates the sacrifices of Vietnam veterans and their families and is part of a national effort to recognize the men and women who were denied a proper welcome upon returning home more than 40 years ago.
Sheriff Bill Overton said, "Franklin County sent and lost several of our finest during the time of November 1, 1955 – May 15, 1975. Today, we are especially thinking of them and their families. Thank you for your sacrifices."
Franklin County Sheriff's Office Deputy is Recognized
WoodmenLife and the Franklin County Sheriff's Office would like to recognize Deputy John Lavinder for his commitment to our community for the month of March. During all of John's childhood he wanted to be a policeman and help others. He started on his path by joining the Franklin County Volunteer Rescue Squad where they taught him so much. Deputy Lavinder continues, after 21 years as bailiff in the Franklin County Circuit Court, offering his guidance and direction to people within our community.
For 29 years Deputy John has also been a K9 blood hound handler for our Franklin County Team. Deputy Lavinder, a very experienced handler, but he is also a highly sought after instructor on the east coast and has been to Brazil several times to train others in this the art of working with blood hounds to help locate someone. "Its hard work but so rewarding to be able to help locate an elderly person, a lost child, or help solve a case", Lavinder said.
On behalf and myself and WoodmenLife, thank you Deputy John Lavinder for all that you do to help our community be a better place.