Get to Know Your Sheriffs – Sheriff Donald A. Lowe – Louisa County
For the month of June, we are excited to introduce to you Louisa County Sheriff Donald A. Lowe. We asked him to give us insight into his career as well as what inspires him outside of law enforcement. When asked what new initiatives he plans to focus on, Sheriff Lowe highlighted accreditation, career development programs and community policing.
If you've missed previous introductions of our Virginia Sheriffs, links to these posts may be found at the bottom of this page. We hope you will come to know and appreciate these individuals as much as we do! Our Sheriff introductions may also be found on our Facebook page, along with other interesting news items about our member sheriffs!
Get to Know Your Sheriffs – Sheriff Donald A. Lowe – Lousia County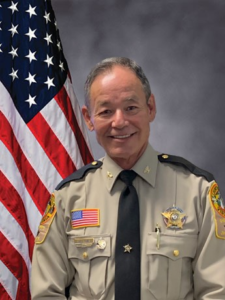 1. What new initiatives do you plan to focus on?
Accreditation
Career Development Programs
Community Policing
2. In light of various challenges, especially the continued challenges of the COVID-19 pandemic, how can the sheriff's office and law enforcement as a whole work to build trust among their communities?
Long before COVID-19 and George Floyd, the Louisa County Sheriff's Office established and still maintain several community policing programs such as:
(1) Cultural Diversity training — LCSO mandated training 21 years ago (January 2000) prior to the DCJS mandate;
(2) Community Strong –- a partnership with law enforcement, NAACP, schools, churches, local government and citizens. The program was founded in 2010 was designed to bring the community together and discuss any concerns the community have through events, discussions and training.  We have helped with food drives, focused on certain areas and neighborhoods with events that included entertainment, food, games music, K-9 demonstrations and more.  Our last event (May 15, 2021) was a mock traffic stop to educate the community on what to do during a traffic stop, what's going on in the officers mind, driver anxiety and how to prevent unnecessary escalation from a minor traffic violation; and
(3) Many more programs that are too numerous to list.
3. How are you supporting the vaccine distribution across Virginia?
LCSO supports and assist in our local vaccine distribution with whatever is requested by our county government and health department. Some of our employees have worked in the clinics.
4. What is something you would like to accomplish?
Accreditation
5. To what do you look forward most about your job?
Louisa County has an amazing community and seeing the impact of our community programs has had on our youth and citizens has been amazing.
6. Who have been mentors and/or role models in your life/career?
Retired Sheriff Ashland Fortune and My parents
7. What energizes and inspires you to continue to dedicate yourself to your work, protecting and serving your community?
The citizens, schools and a very supportive county government as well as Louisa County Sheriff's Office deputies and command staff performance.
8.What do you enjoy doing in your time away from work?
I'm an avid motorcyclist. I combine my passion for motorcycles with community service by organizing and/or participating in fundraisers to help children, veterans and those in need.
9.What are some of your favorite songs on your music playlist?
Learning by Kane Brown; Rise Up by Katherine Hallam and her son Jordan; and Call Me The Breeze by Lynard Skynard.
10. What is your favorite book?
I don't have a favorite but I enjoy reading about historical figures and world history.
11. What sports/teams do you root for?
I gave up on pro sports when they became political and lost their entertainment value.
12. What drew you to law enforcement?
I come from a law enforcement family and a very friendly police officer that helped me in a time of need when I was a teenager. It was something I wanted to do since I was a child.
13. What did you do before being elected to the office of sheriff?
I spent 20 years as the Chief Deputy under retired Sheriff Fortune.
14. If you could have any superpower, what would it be and why?
Power to heal and save lives.
15. If you could visit any place in the world, where would it be?
Key West, Hawaii and anywhere tropical.
16. What are you most proud of?
My family and my team at the Sheriff's Office.
17. What's your favorite movie genre?
Comedy
18. What character trait do you most admire in others?
Listening to learn, not to reply.
19. What have you taken away from the past year that you will carry forward in your work?
Patience and understanding no matter how I feel or what opinion I may have.  The importance of living life normally and how changes in social interactions can have an adverse effect on people.
Sheriff Donald Lowe Biography
Sheriff Donald A. Lowe was elected to office and began his term January 1, 2020.  Lowe is the second of three generations of law enforcement officers that have served the citizens of Louisa County, and has more than three decades of law enforcement experience.
Sheriff Lowe moved to Louisa County in 1976 and has been active in public service ever since, beginning with volunteering as a member of the Mineral Volunteer Rescue Squad, obtaining the position of Captain and Cardiac Technician – Advanced Life Support along with several other qualifications and instructor certifications.
Work in Law Enforcement
Sheriff Lowe started his law enforcement career as a deputy in 1987 at the Louisa County Sheriff's Office after serving as the Coordinator of Security Systems at the North Anna Nuclear Power Station. Lowe was later transferred and assigned to the Narcotics Task Force (NTF). During his time as a task force officer he was recognized by the United States Customs Service for his outstanding efforts in the investigation of a Jamaican multi-million-dollar international drug smuggling operation that was active in several different states along the east coast. During his career Lowe has worked on many high-profile cases including, investigations of murder, rape, drugs, gangs, fraud and many more.
In 1999 newly elected Sheriff, Ashland Fortune, asked Lowe to serve as Chief Deputy of the Louisa County Sheriff's Office. While working alongside Sheriff Fortune, Lowe was instrumental in bringing the Louisa County Sheriff's Office into the 21st century by developing the department's technology program, including bringing in car cameras, mobile data terminals, and body cameras to the deputies.
Sheriff Lowe's innovative forward-thinking leadership style was instrumental in helping develop programs for cultural diversity, standards in training, and accountability.  Lowe has also worked hard in the development of a high level of trust and great working relationships with all Virginia public safety and local government partners.
Accomplishments:
Sheriff Lowe serves on several law enforcement, public, non-profit and educational committees including:
Board of Directors, Central Virginia Regional Jail
Board of Directors, Community Strong
Louisa County Safe Schools Task Force
School Health Advisory Board
Louisa County Animal Rescue Team (LCART)
Past Chairman Louisa County Animal Rescue Alliance
Past Chairman Evan Adams Memorial Children's Benefit
Director Blue Knights Law Enforcement Motorcycle Club
Louisa County Sheriff's Office Foundation – Ad-Hoc Member
Crisis Intervention Training Certification
Virginia Gang Investigator Specialist
Drug Investigation Narcotics TFO
Investigative Round Table on Organized Crime
Law Enforcement in the Marine Environment
Covert Electronic and Technical Surveillance
Speaker at the Conference of Violent Crime
Certified Surveillance Tech
Getting to Know Your Virginia Sheriffs Archives