Governor Glenn Youngkin, Lt. Governor Winsome Earle-Sears, Secretary of Public Safety and Homeland Security Bob Mosier and Secretary of Health and Human Services John Littel Attend VSA Legislative Reception
~Remarks Highlight Legislative Initiatives to Support Sheriffs and Deputy Sheriffs Across the Commonwealth~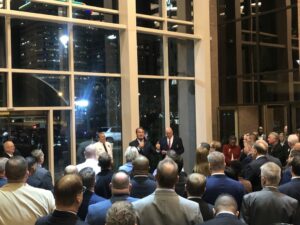 Richmond – Governor Glenn Youngkin, Lt. Governor Winsome Earle-Sears, Secretary of Public Safety and Homeland Security Bob Mosier, Secretary of Health and Human Services John Littel, representatives of the Attorney General's office, agency heads and legislators all attended the VSA Legislative Reception Tuesday evening, January 17, 2023, to kick off Virginia Sheriffs' Association Sheriffs and Deputy Sheriffs Day on the Hill.
Lieutenant Governor Winsome Earle-Sears and Governor Glenn Youngkin thanked sheriffs, deputy sheriffs and all office staff for their service, remarking on their sacrifice.
Governor Youngkin emphasized his legislative agenda to support sheriffs and deputy sheriffs from compression pay to recruitment, from funding for Operation Cease Fire to civil penalties for crimes with guns and across the board support for behavioral health services from TDO's to ECO's.
VSA sheriffs and deputy sheriffs were also delighted to welcome representatives of the Attorney General's Office, Colonel Gary Settle of the Virginia State Police, legislators and their staff to discuss critical issues facing the law enforcement community.