Delegate Chris Jones Named House Appropriations Committee Chair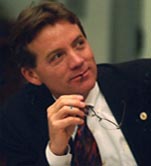 Jones named appropriations chair
Suffolk News Herald
By Tracy Agnew
Published 11:04pm Wednesday, December 4, 2013
http://www.suffolknewsherald.com/2013/12/04/jones-named-appropriations-chair/
Suffolk Delegate Chris Jones will lead Virginia's House Appropriations Committee in the 2014 session after being appointed as the chairman this week by Speaker of the House William Howell.
Jones is entering his 13th year on the committee, which he joined in his third term after first being elected in 1998.
"I'm very humbled by the opportunity and the speaker's confidence in me to lead the committee," Jones said Wednesday. "We've got a strong committee with a lot of talent. I look forward to leading the team."
The committee of 22 members — 15 Republicans and seven Democrats — is one of the busiest committees of the 14 in the House, Jones said. Its primary responsibility is to handle the state budget, which will be introduced by the governor on Dec. 16.
"We'll have about five weeks to get the budget out," Jones said. "We'll make amendments to it, then it will cross over to the Senate, we'll put it into conference, and by the eighth of March we'll be voting on it and heading home."
The committee has 10 subcommittees for various facets of the state's budget, such as education, health and human services, compensation and more. It will be Jones' responsibility to assign members and chairs to the subcommittees.
"It's an extremely busy committee, and it requires a lot of time," Jones said. "While I have been busy during session in the past, this will probably give a new meaning to being busy."
While assignments for other committees have not yet been announced, Jones said he assumes he will keep his assignments on the privileges and elections, rules and general laws committees. He had been the chairman of general laws but will no longer hold that title.
"I'm excited, needless to say," he said of the appropriations assignment. "I'm looking forward to getting to Richmond in January."