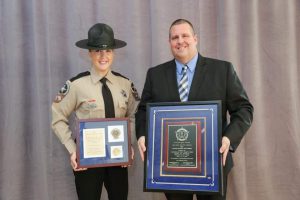 The Westmoreland County Sheriff's Office was recognized with two awards during the recent International Association of Chiefs of Police (IACP) conference held in San Diego, CA. The National Law Enforcement Challenge (NLEC) awarded the office first place in the Sheriff's 1-50 Sworn Deputies category. In addition, the National Sheriffs' Association awarded the office with the Overall Top Traffic Safety Award. The NSA's recognition included a $6,500 training scholarship through Northwestern University, and it covered all expenses for Deputy Moles and Sheriff C.O. Balderson to attend the conference.
"I am honored and extremely proud of the efforts our deputies provide in traffic safety initiatives," said Sheriff Balderson. "Their commitment and dedication to saving lives on our roadways enhances the effectiveness of our safety programs."
The NLEC recognizes and awards excellent law enforcement traffic safety programs, focusing on impaired driving, occupant protection and speed awareness. Evaluating factors include: Problem Identification, Training, Policies, Planning, Enforcement and Public Education/Information. The NLEC is supported through a cooperative agreement between the IACP and the National Highway Traffic Safety Administration in partnerships with the NSA, the Governors Highway Safety Association and the American Association of Motor Vehicle Administrators.