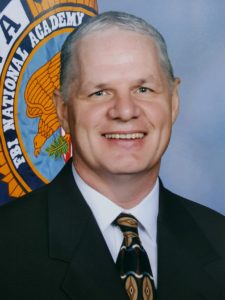 On September 15, Chesterfield County Sheriff's Office Major Matthew Wilkerson graduated from the FBI National Academy Session 269.
Leaders and managers of state, local, county, tribal, military, federal, and international law enforcement agencies attend the FBI National Academy. Participation is by invitation only, through a nomination process. Participants are drawn from every U.S. state and territory and from international partner nations. The FBI National Academy is a professional course of study for U.S. and international law enforcement managers nominated by their agency heads because of demonstrated leadership qualities. The 10-week program—which provides coursework in intelligence theory, terrorism and terrorist mindsets, management science, law, behavioral science, law enforcement communication, and forensic science—serves to improve the administration of justice in police departments and agencies at home and abroad and to raise law enforcement standards, knowledge, and cooperation worldwide.
Sessions of approximately 220 officers take undergraduate and/or graduate courses at the FBI campus in Quantico, Virginia. Classes are offered in the following areas: law, behavioral science, forensic science, understanding terrorism/terrorist mindsets, leadership, communication, and health/fitness.
Officers participate in a wide range of leadership and specialized training, where they share ideas, techniques, and experiences with each other, creating lifelong partnerships that transcend state and national borders.
Major Wilkerson joins two additional Sheriff's Office members who have graduated from the FBINA: Sheriff Karl Leonard (Session 219; 2004) and Lt. Colonel Larry Kriebel (Session 251; 2012).