Updates from Chesterfield County
June 8, 2018, at Hopkins Road Elementary School, deputies assisted with field day events. It was a great opportunity for us to spend time with the students as they participated in various games and activities. Thank you to Ms. Sherman who teaches physical education at Hopkins Road Elementary School for coordinating this event and allowing the Chesterfield County Sheriff's Office to be involved.
Thank you to Ms. Hodges, School Counselor at Jacobs Road Elementary School, for allowing Deputies Carroll, Muscat and Reynoso to speak to students at Career Day on Thursday, June 7th. Career Days are an important part of our relationship with the youth of our community. The deputies answered questions and explained to students about the duties and responsibilities of being a deputy sheriff.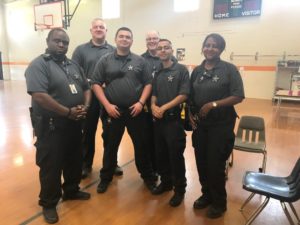 June 8, the Chesterfield Sheriff's Office along with members of the Chesterfield Police Department, participated in the Law Enforcement Torch Run for Special Olympics of Virginia. This year we had the pleasure of running with Jenna and first time Torch Run runner, Ryan, two Special Olympic athletes. We also appreciated the opportunity to help Jenna celebrate her birthday. Thanks again to the staff of the SunTrust Bank and Wawa on Ironbridge Road for providing us water and snacks at our rest stops along the route. Several of us from the Sheriff's Office will also be participating in the Final Leg of the Torch Run route at the University of Richmond this evening for the Summer Games Opening Ceremony. CSO Pride!