Franklin County Sheriff's Office News Update
Deputy Burton Awarded Top Gun
A few months ago, Deputy Tim Burton attended 3 Gun School in Montgomery County, VA. This once a year school focuses on training with three different firearms, the intricacies of each, and a timed of proficiency at the end. Deputy Burton earned the highest score of the class and was awarded TOP GUN honors. Burton said it was one of the best schools he had ever attended.
Sheriff Bill Overton stated, "This school really allows an officer to be placed in many different stress type scenarios that prepare them in case of a real life gun fight. Physical training during the session, very hot weather and the awareness of your surroundings made for a dynamic class. We are so proud of Deputy Burton and what he has achieved. This type of one on one training, along with our local active shooter training events, attempt to keep FCSO always at the ready."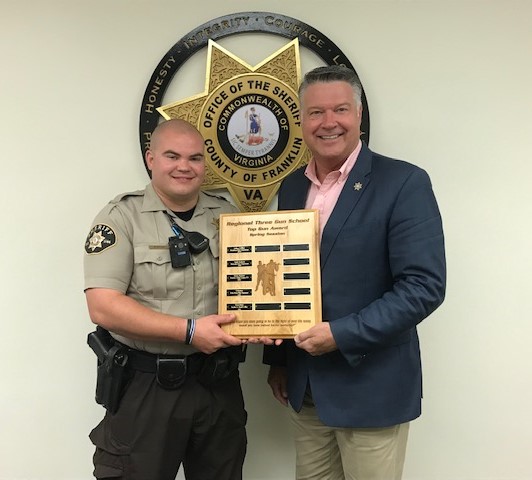 FCSO BOAT PATROL ON THE WATER
The 4th of July weekend saw a lot of extra marine traffic on Smith Mountain Lake and the FCSO Boat Patrol was out and about, waving Old Glory, atop their Clearwater 2100. Thanks to Captain Duane Amos and Sgt. Greg Talley for assisting those in need and helping with a flotilla that went from Hales Ford Bridge to the SM Dam and back and worked the fireworks display at Saunders Point.