Prince Edward County Sheriff's Office – Press Release
On March 30, 2022 Law Enforcement and local Officials from Charlotte, Halifax and Prince Edward Counties met with Matt Hall, Community Liaison Officer of the Attorney General and Delegate James Edmunds. Among the topics discussed were issues such as funding, being under-staffed, and the increasing numbers of emergency custody and temporary detention orders.
To view full press release, click HERE.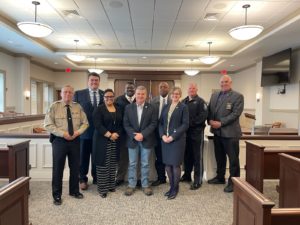 L-R–Front Row: Honorable Prince Edward County Sheriff L.A. Epps, Honorable Prince Edward County Commonwealth's Attorney Megan Clark, Honorable Delegate James Edmunds, Honorable Halifax Commonwealth's Attorney Tracy Q. Martin
L-R–Back Row: Attorney General Liaison Officer Matt Hall, Honorable Charlotte County Sheriff Royal Freeman, Halifax County Major Mike Womack, Halifax Police Chief Bryan Young, and the Honorable Halifax County Sheriff Fred Clark